Euros driving up COVID-19 infections
Share - WeChat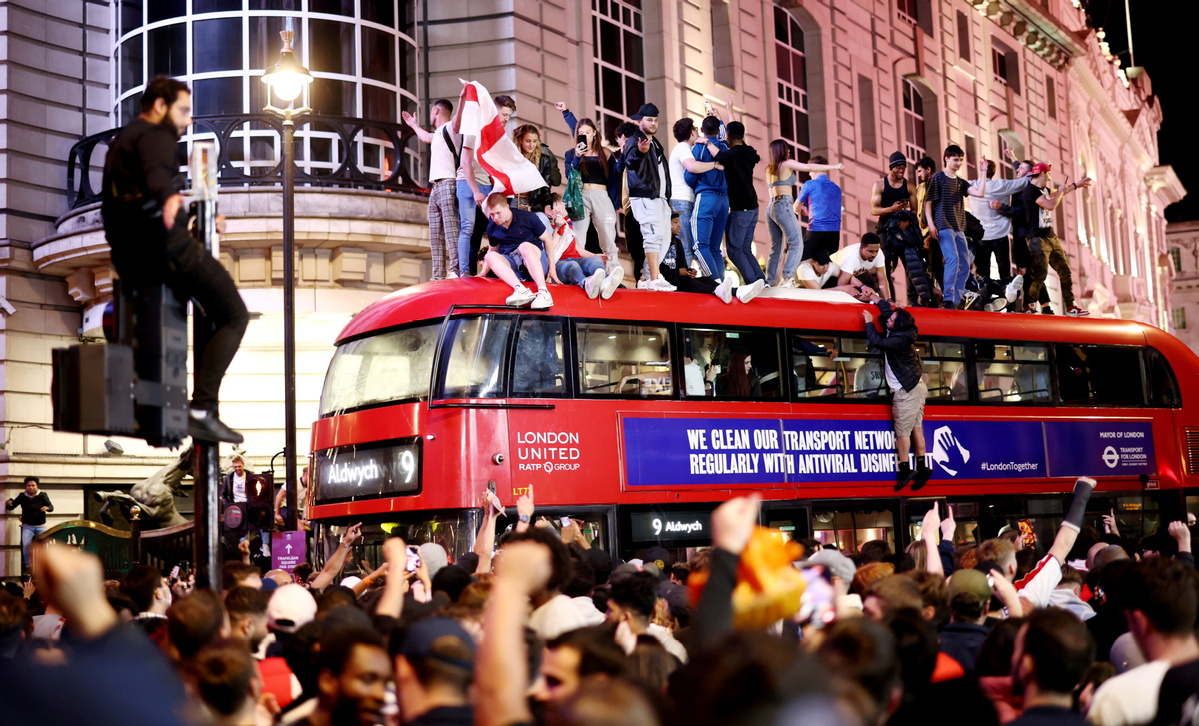 England's soccer team has had a smooth run in the ongoing UEFA European Football Championship and will play Italy in Sunday's final, but success on the pitch has caused a spike in COVID-19 infections off it, scientists say.
The latest React study, which is an ongoing research project being conducted by Imperial College London and Ipsos Mori, shows infections are increasing for the first time more quickly among men than women, something experts attribute to men being more likely than women to watch televised games in the company of others.
"It could be that watching football is resulting in men having more social activity than usual," Steven Riley, the professor who authored the study noted. "There's lots of evidence that mixing inside is more likely to result in transmission than mixing outside."
The BBC said the study found men in England were 30 percent more likely to have contracted COVID-19 during the past two weeks than women.
Sky News said it was the first time UK infection rates had been found to be different between genders.
The soccer tournament, which is known as the Euros, began on June 11 and will end on July 11. The React study looked at the COVID-19 status of more than 47,000 volunteers between June 24 and July 5.
Researchers concluded England is already in a "substantial third wave of infections", with the number of new cases doubling every six days.
They found only 0.15 percent of people in England had COVID-19 in early June but 0.59 percent had it a month later. London is hardest hit, with 1.08 percent of residents currently testing positive.
The connection between the Euros and spikes in COVID-19 infections previously led Germany's chancellor, Angela Merkel, to question the wisdom of allowing large crowds into some venues. And, The Guardian reported, Public Health Scotland said, after 2,000 Scotland fans were allocated tickets for a game in London between their team and England, that 1,300 fans tested positive after returning to Scotland.
However, the study noted that the recent sharp rise in infections has not been accompanied by a similar spike in hospital admissions, suggesting the United Kingdom's vaccination program is protecting people from serious illness.
The BBC quoted Paul Elliott, a professor at Imperial College London's School of Public Health, as saying: "In spite of the successful rollout of the vaccination program, we are still seeing rapid growth in infections, especially among younger people. However, it is encouraging to see lower infection prevalence in people who have had both doses of a vaccine."
He said around 64 percent of adults in England have now had both doses of a vaccine.
With England set to end its lockdown on July 19, Health Secretary Sajid Javid said the report demonstrates vaccines are working well.
"As we unlock society and learn to live with COVID-19, we will inevitably see cases rise significantly over coming weeks," he said. "But today's findings show that infection rates are three times lower for those who have had two vaccine doses."