Xi's July 1 remarks resonate with 1.4 billion people
Share - WeChat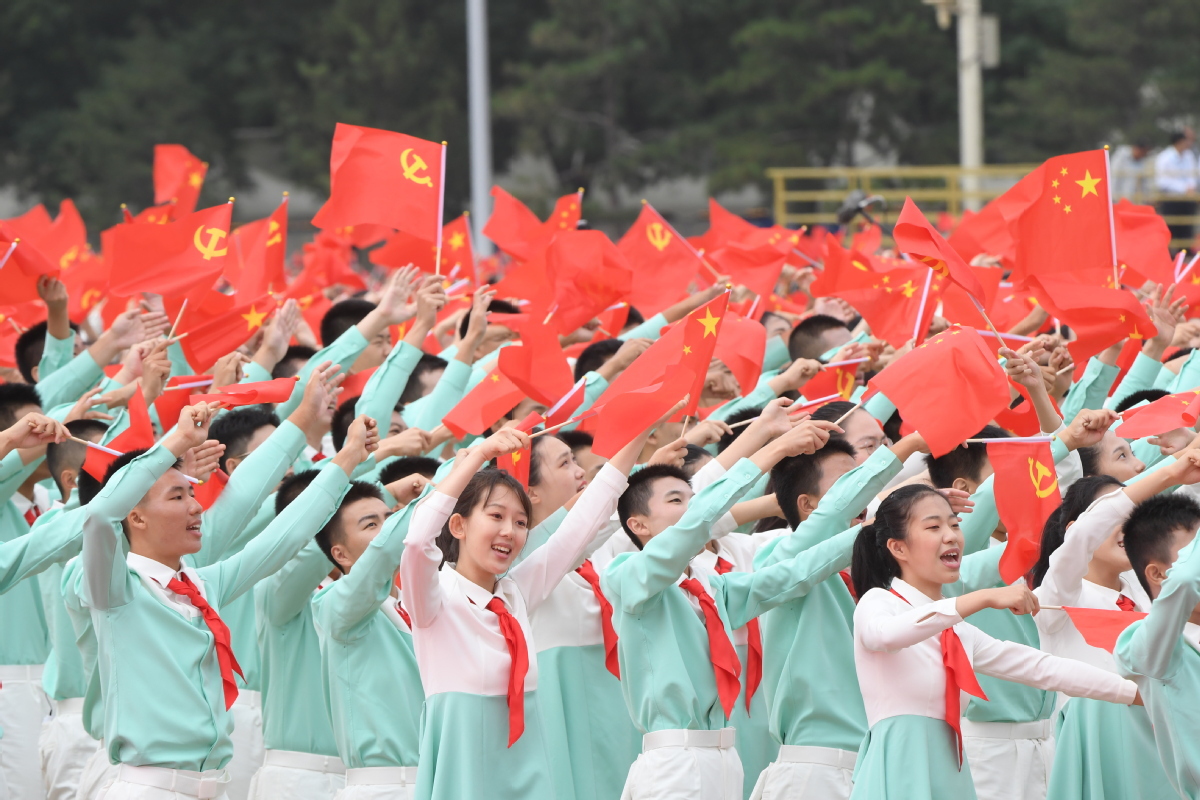 In his speech at the gathering in Tian'anmen Square on July 1 to mark the centenary of the founding of the Communist Party of China, CPC Central Committee General Secretary Xi Jinping said: "We will never allow any foreign force to bully, oppress or subjugate us. Anyone who would attempt to do so will find themselves on the collision course with a Great Wall of steel forged by over 1.4 billion Chinese people."
Many foreign news media have highlighted these words in their coverage, interpreting it as strong rhetoric targeting the West. Some have speculated that they are directed at the United States.
I can't see anything wrong with Xi's statement. Who on Earth thinks that a foreign force should be allowed to bully, oppress or subjugate his or her nation?
It is true that people who know little of modern Chinese history or those whose countries have a long history of colonizing other countries, seizing territories and waging wars may find it hard to understand the profound meaning of Xi's remarks. But to Chinese people who know about the "century of humiliation" in their nation's history, Xi's words are a source of pride, just like Chairman Mao Zedong's declaration in 1949 that "the Chinese people have stood up".
For the same reason, the Chinese people feel proud of their country's phenomenal achievements in the four decades of reform and opening-up. China has become the world's second-largest economy and is on way to becoming the largest. And the Chinese people's living standards have improved by leaps and bounds.
A short tweet by Spectator Index on Wednesday is telling: "China's share of global GDP (PPP) is 2 percent in 1980, 7 percent in 2000 and 18 percent in 2020". What it did not say is that no other country has achieved so much in such a short span of time.
It explains why a 2003-16 survey by Harvard University's Ash Center shows a staggering 95.5 percent of Chinese respondents saying they are either "relatively satisfied" or "highly satisfied" with the central government, in sharp contrast to the 38 percent of the US respondents saying the same about their federal government.
Like any governing party, the CPC has made mistakes. But the hallmark that distinguishes the CPC from other political parties is its courage in undertaking self-reform. Yet its high approval rating means that the country is moving in the right direction. Of course, much needs to be improved.
That is exactly what is missing in the foreign media's coverage of Xi's remark that "we welcome helpful suggestions and constructive criticism, but will not accept sanctimonious preaching from those who feel they have the right to lecture us".
Xi pledged that China will continue to champion cooperation over confrontation, further open up rather than closing its doors, and focus on mutual benefit instead of playing zero-sum games.
These are reassuring words for the world but could also be viewed as pointed.
The Joe Biden administration has not only continued but sometimes escalated the China-containment policy pursued by his predecessor Donald Trump, a policy that is reminiscent of the confrontational and zero-sum Cold War. Its decision last week to crack down on Chinese solar energy companies is an assault on the global fight against climate change despite all the lies it has used to justify the move.
Washington is waging a reckless smear campaign against China both at 物流香港 and abroad, and it is going all out to gang up with some of its allies against China. Worse, its interference in China's domestic affairs has reached an unprecedented level.
It's not difficult for any foreign journalist based in China to feel the growing public resentment toward the US' policy. And that is why Xi's words resonate so much with the population, as reflected in the thundering applause from the Tian'anmen Square audience on Thursday.
The author is chief of China Daily EU Bureau based in Brussels.
Most Viewed in 24 Hours
China Views